Safe Haven
How Endeavour's Safe Haven service will support you...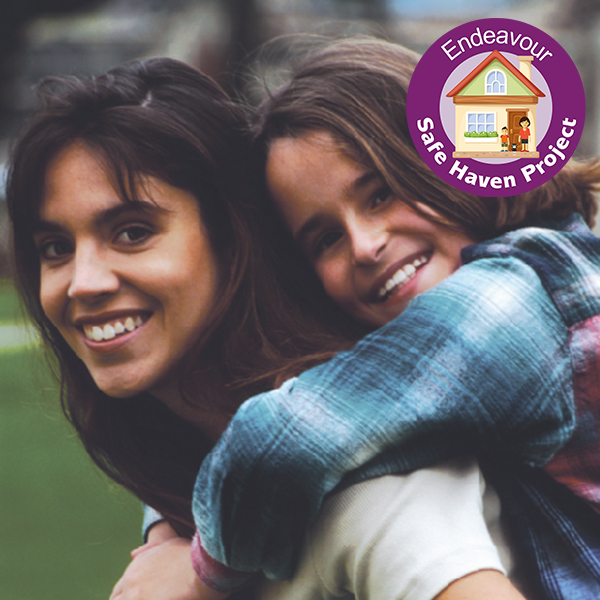 What is the Endeavour Safe Haven Project
Working with families escaping all forms of domestic abuse, the Safe Haven project provides bespoke support for families recovering from domestic abuse in Bolton.
How the Safe Haven Project works:
All families referred to the Safe Haven project must be recovering from domestic abuse and want support to help prevent the repeat cycle of abuse.
A referral can be made to Safe Haven via Bolton emergency accommodation providers, Bolton at Home Anti-Social Behaviour Team or by downloading a referral form.
Voluntary support plans are drawn up between the family and a Safe Haven support worker.
Referrals must be completed with family consent. The Safe Haven Project can accept self-referrals.
What our services offers:
One- to-one work with each member of the family
Referrals to other services with on-going support, mediation and advocacy
Coaching and experiential learning
Why We Do It...
Endeavour acknowledges that there are long term concerns for those who have made the decision to leave or separate from an abusive partner.
It can be difficult for families to settle to new ways of living. Endeavour provides emotional and practical support to help families re adjust.
There is a need for bespoke support and care for all the family to complement other specialist services and to maximise take-up of these services.
How the service will help you...
Home based support will assist each family member:
Getting over particular experiences of domestic abuse
Addressing early signs of anti-social behaviour in children by working in partnership with relevant agencies
Developing problem solving and coping strategies, both in terms of practical problems, as well as dealing with their emotions
Whatever your experiences… Endeavour can help
Download Referral Form
You can contact Housing options on 01204 335900 for safe temporary accommodation during week days between 9:30 and 5:00pm. Alternatively you can contact the Out Of Hours Team on 01204 337777 week days and weekend after 6:00pm in an emergency situation. Alternatively if it is not an emergency situation in which you need to seek safe temporary accommodation however you require support/ advice around your current housing situation you can still contact Housing Options inform them of your current circumstances and they will complete an assessment with you to ascertain if they are able to offer assistance.
If on benefits you can apply online through Bolton Council for Local Welfare Provision in which you can apply for white goods and other items needed to furnish a home. Please Note: there is no guarantee that your application will be successful and you may be awarded a number of items and not all what you have applied for.
If open to an agency/service you can also seek support from Community Transport for Household items however will need a letter from the relevant agency and £20. Please Note: Items are second hand and you will be advised upon visiting as to which items you can choose from.
If you are being supported by Endeavour we can put an appeal out online for items needed however cannot guarantee this. This will be completely anonymous.
Alternatively if you are being supported by an agency/service your support worker can request an application from The Bolton Guild of Help. The Guild Of help can offer a wide range of support with both household items. Please Note with White Good this will be One item only.
If you are wishing to remain in your property and don't wish to access refuge or safe temporary if you are living in either a Bolton Council property or Housing Association you can  firstly seek advice from your current housing provider and discuss your options. If they are unable to assist alternatively you can contact Housing Options on 01204 2335900 for Housing Advice. It is always advisable to register online with Homes for Bolton, you can access the application online.
I would always advise to log and report any unwanted Harassment/Threats to the Police.
Legal Advice/Solicitor:
You can also contact a local Solicitor for advice in regards to an Application for a Non-Molestation Order however this will be dependent on your financial situation as to whether you would be eligible for FREE legal help. Alternatively if you are unable to access Free Legal assistance and cannot afford to pay privately for legal advice you can contact DV assist who are a Registered DA Charity that can offer advice/assistance over the phone/email in regards to applying for Non-Molestation orders.
There are several ways you can contact us here at Endeavour. You can telephone Monday – Friday, 9.30am – 5.00pm
Alternatively, fill out this contact form and we'll get in touch with you.