Pet Fostering
How our pet service works for you...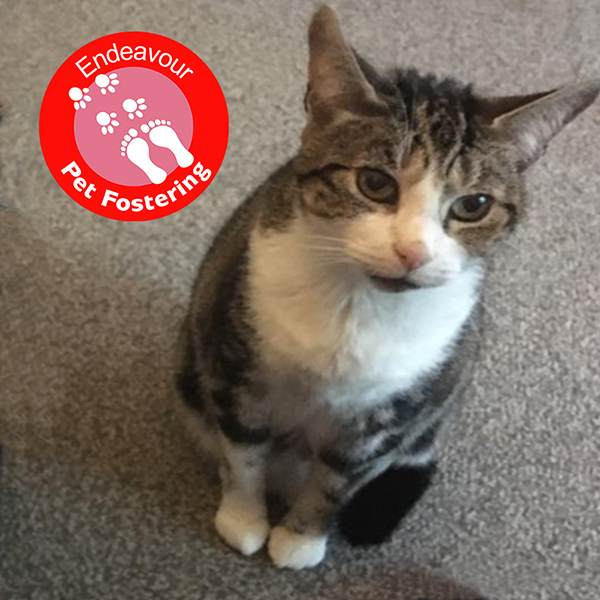 Become a Pet Foster Carer
Endeavour always need volunteers living in the North West to become foster carers. Volunteer foster carers must be over 18 years of age and have experience of caring for pets.
During the placement you will receive ongoing advice and support from Endeavour staff and you will be able to contact the office any time you need help or advice.
All information concerning the pet owner and the foster carer placement is kept confidential. The owner is not able to visit their pet whilst in foster care but we will keep in touch with the pet foster carer on a regular basis and keep the owner updated on their pet's wellbeing. Endeavour will provide access to veterinary care for foster pets where necessary. We also actively seek donations of pet food and equipment which we then pass onto foster carers.
If you're interested in becoming a foster carer, please read the application pack and return your completed form to Endeavour, 340 Chorley Old Road, Bolton, BL1 4JU or e-mail to petfostering@endeavourproject.org.uk
Application Form
Britain is a nation of animal lovers and many homes include pets as part of the family…
…but in homes where there is violence and abuse, pets are often threatened, injured or killed by violent perpetrators to maintain control over their partners and children. In a survey of 50 women pet owners living in refuges because of domestic violence, 2 out of 3 said their abuser had threatened to harm their pets; 38% said that he had actually harmed them and a massive 94% said if there had been a pet fostering service it would have made it easier for them and their children to escape the violence. Well over half had to give up their pets when going into the refuge as there was no other option.
In 1998, our pet fostering service for pet owners going into refuges or temporary accommodation in the North West was launched and has grown from strength to strength.
Endeavour aim to provide foster placements for all domestic pets including cats, reptiles, fish and small furry animals. We work in partnership with the Dogs Trust Freedom Project to foster dogs.
If you are ready to leave… Endeavour can help.
Referral Form
There are several ways you can contact us here at Endeavour. You can telephone Monday – Friday, 9.30am – 5.00pm
Alternatively, fill out this contact form and we'll get in touch with you.