Better odds than the National Lottery
Join the Paws Lottery & make a difference!
Joining Endeavour's Paws Lottery not only gives you the opportunity of winning a cash prize each month, but helps support all pets affected by domestic abuse.
All monies raised through the lottery provides essential funding towards  Endeavour's Pet Fostering Service, a completely unfunded service that relies solely on the dedicated volunteers, donations and other fundraising events that ensures financial security for Endeavour that enables us to continue offering the FREE services we provide.
Cash Prizes for less than £1.00 per week!
The monthly draw pays out three cash prizes of £150, £50 and £25, with all remaining funds back into the Pet Fostering service. The more numbers bought by supporters means larger cash prizes plus additional financial security for the Pet's Project  – It's a Win-Win situation for supporters and pets.
How it works
Paws Lottery is an annual commitment and numbers are sold in batches of four randomly allocated numbers for only £4.00 per month. Money is collected by standing order each month or you can pay annually in full (£48).
Your numbers will be entered into our monthly draw for the chance to Win Three Cash Prizes, currently:
1st prize – £150
2nd prize – £50
3rd prize – £25
Additional numbers can be purchased at any time (in batches of four numbers).
Winners will be notified each month and the results published on our website and newsletters.
We do not share details of winners and only publish first names, town & winning number.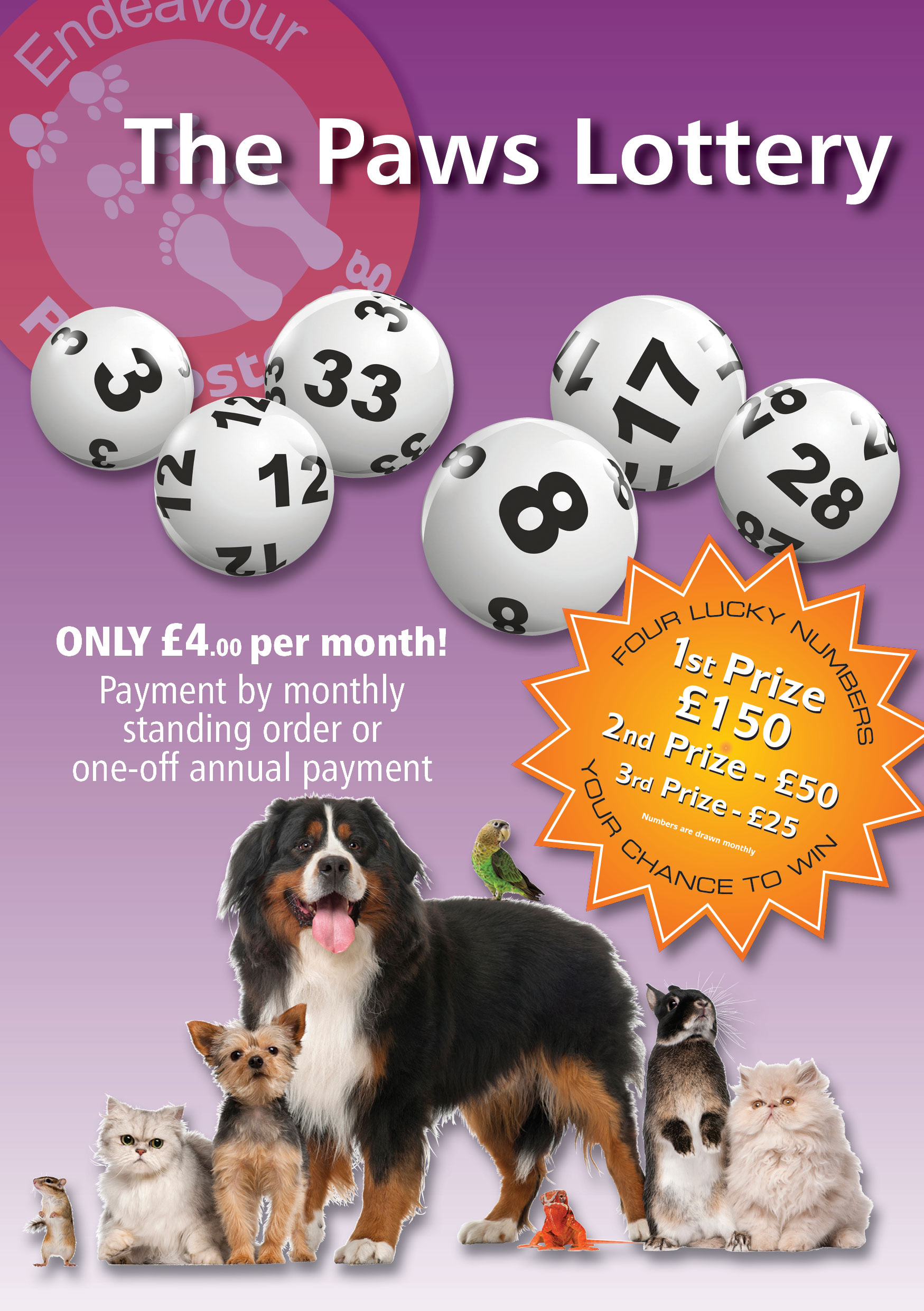 You can join by downloading and completing the standing order form below or by ringing the Endeavour office on tel: 01204 394 842.
Return the completed form to:
Paws Lottery, Endeavour Project, 340 Chorley Old Road, Bolton, BL1 4JU
All queries contact the main Endeavour office.
Download Form
July 2023
£150 – Alan from Bury, number 399
£50 – Gail from Blackpool, number 324
£25 – Alison from Wigan, number 142
August 2023
£150 – Emma from Ashton-Under-Lyne, number 296
£50 – Angela from Warrington, number 102
£25 – Julie from Hebden Bridge, number 67
September 2023
£150 – Louise from Bolton, number 108
£50 – Jean from Wigan, number 233
£25 – John from London, number 59